Road conditions cause lots of crashes, including Bloomington school bus; no injuries
LINCOLN — Freezing drizzle caused numerous crashes Tuesday morning, including one involving a District 87 school bus in Bloomington, because of slick roads.
Also, a four-mile stretch of a northbound lane of Interstate 55 between Lincoln and Atanta in Logan County was closed for several hours. Details or reports of injuries have not yet been released, but police confirm at least two semi trucks were involved.
The bus accident involved about 11 preschool students that slid off a roadway art around 9:08 a.m. The Bloomington Fire Department responded and handed out plastic fire department helmets and stickers to the kids, none of whom were hurt.
Olympia schools opened an hour late and Unit 5 buses reportedly ran late because of the slick conditions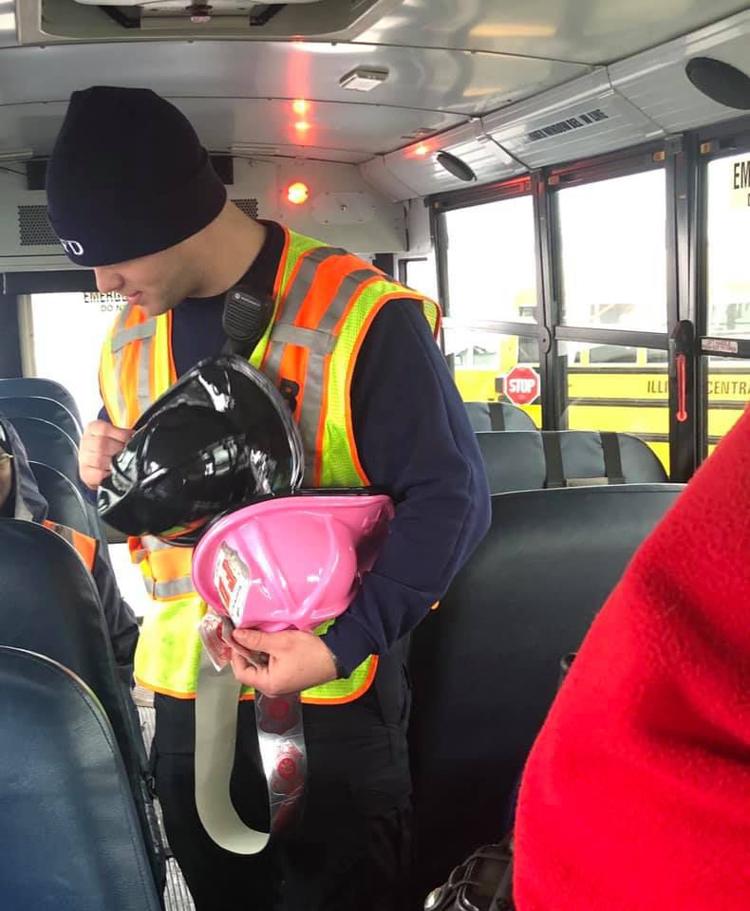 A Bloomington firefighter handed out plastic helmets and stickers to students on a bus that was involved in a minor crash Tuesday morning. None of the students were injured, firefighters said.
Courtesy of Bloomington Fire Department.
llinois State University was closed until 10 a.m. Essential personnel report at their regular times, the school said in a statement.
There have been several other reports of crashes in Bloomington-Normal, as well, with police urging motorists to use caution until conditions improve.
Illinois State Police said they received reports of area interstates being slick early Tuesday. Troopers responded to several accidents, including one near Carlock on I-74. Trouble spots also were reported I-39 north of Bloomington and several other locations on I-55.
There have been no reports of serious injuries as of 11:15 a.m.
The National Weather Service in Lincoln reports conditions have improved in the past hour.
Police in Bloomington were called to the scene of a crash at Empire Street and Veterans Parkway and say one vehicle knocked out a set of stop lights. Crews made repairs this morning. Further details of the crash are not yet available.
In DeWitt County, a garbage truck was reported to be involved in a crash and was turned on its side on Revere Road near Clinton. There were no immediate reports of injuries.
Forecasters said the current weather system will produce a mix of freezing rain and snow Wednesday night and Thursday morning and motorists may experience more slick roadways on their Thursday morning commute.
The weather service's updated forecast Tuesday morning says another winter storm system is expected to impact Central Illinois Friday night through Saturday night, with another chance of accumulating snow.
Last weekend's storm dumped anywhere from 8 to 12 inches of snow throughout the region, including at least 8 inches in the Twin Cities.
Plow crews are still at work after that storm. From 11 p.m. Tuesday to 6 a.m. Wednesday, Bloomington crews will remove excess snow from downtown. All vehicles need to be off the streets during those hours; downtown residents are encouraged to park in nearby parking garages.